A private school in New York is a gathering place of rich children - those with wealthy parents who are willing to spend a lot of money to beautify their transcripts and help their children get into top universities.
Dalton School is one of the most prestigious private schools in the Manhattan area of ​​New York (USA), often the choice of the children of the rich and well-to-do, according to The Atlantic. Part of the reason is that this school can answer the question of the rich: What do rich parents want?
They want what no one else has. At Dalton, that means "an on-site archaeological research centre", kitchens for visual teaching, a rooftop green greenhouse and epic concert halls, even whole helipad. According to a member of local officials, after the most recent renovation, Dalton School has built 2 more floors with an area of ​​​​12,000 square feet in 1 of 4 buildings to better prepare for the "exciting world" that The young boys and girls of the rich family will experience it.
According to Caitlin Flanagan, writer for The Atlantic and author of the book, expensive private schools like Dalton School bring together kids "born on the finish line", which have advantages in every way.
At the same time, it also exposes the bad side of rich parents - the main sponsors of the school.
The obsession of children falling behind of parents with a lot of money
When Dalton's principal Jim Best announced that the school would not hold in-person classes last fall because of the complicated COVID-19 situation, wealthy parents expressed disappointment. , afraid of their children falling behind. Meanwhile, other private schools like Trinity, Ditto are still open...
Parents who are willing to spend $54,000 on their children's education can afford to see their children's academic performance fall behind? By the beginning of January, parents started sending emails expressing their frustration to the principal. A group of 20 doctors with children studying at Dalton wrote that "they are disappointed and hope the school reconsiders its worthy online learning model".
"The school please let us know the conditions for the children to return to class. As far as we know, some other private schools are still operating as normal," the letter read.
Not long after, more than 70 other parents signed an application to reopen because "my kids are sad, confused and feel lonely" when they can't go to school.
The students at the elite private school were advantaged in every way by the wealth of their parents. After graduating, it is rare for anyone not to be able to get into top American universities. According to statistics, the number of students attending private schools accounts for only 2% of students in the US. But up to 24% of them are enrolled in Yale University, 25% are enrolled in Princeton University, 29% are enrolled in Brown University. All of them are top famous prestigious schools in the world.
Over the past five years, one-third of Dalton graduates have gone on to attend Ivy League schools. For the private Harvard Westelake School in Los Angles, 45 students go on to attend Harvard University. Noble & Greenough School in Massachusetts, whose 50 students go on to Harvard University.

Power belongs to those with money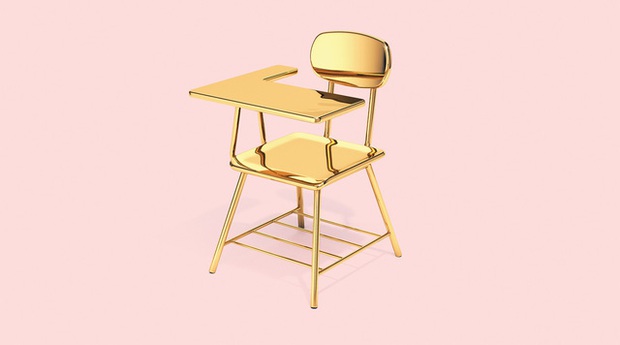 Các vị phụ huynh giàu có luôn muốn các giáo viên tập trung nhất vào việc tạo một bảng điểm đẹp cho con em họ (Ảnh: The Atlantic)
Behind the glitz and glamor of private schools for the rich in New York: Using money to overwhelm people, parents treat teachers as serving staff - Photo 2.
Wealthy parents always want teachers to focus most on creating a beautiful transcript for their children (Image: The Atlantic)
"These private schools inadvertently transmit ruling class values ​​when the children of the rich are supported enough by their parents' generous financial support for the school," Caitlin assessed.
Generosity of money will affect your chances of getting through the golden door of a prestigious university and change your life forever. But what makes these schools ridiculous is their assertion that they are motivated by fairness and "comprehensive calculation".
"For wealthy parents, a $50,000-a-year school is like an expensive consumer product," Caitlin said. If these schools really care about equity, all they need to do is a unified and transparent regulatory system.
Caitlin said that she has been monitoring these private schools for many years and has directly taught at one of the famous private schools. Caitlin said that she never thought such an education existed before. The students don't seem interested in the subjects. For teachers, the best lesson plan is probably: Have students read a book on their own and go to lunch. There is a landline phone in the school office to keep in touch with the parents of students, however, it is rare for any parent to call the school to inquire about their child's situation.
Caitlin once gave a student an A- for a creative writing assignment. Soon after, the student's mother called the school to complain